DO NOT REMOVE - LEFTNAV CLOSE/CONTENT OPEN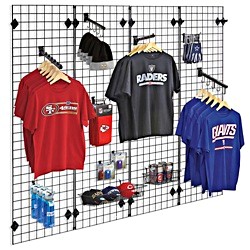 A GridWall Display is like having your own erector set!
Build a beautiful GridWall panel display now and reconfigure later as your merchandise mix changes. Our Grid Wall panel displays are available in black, white or chrome. Need GridWall accessories or GridWall Hardware? We sell accessories too!
A Grid Wall Display is great for...
Trade shows
Showrooms
Promotional displays
And much more!
Look below to find the right display GridWall or Grid wall shelf and/or Grid Wall accessories for your retail display needs. Please note all 4' x 4' grid panels and all grid panels 6' and over are oversized and will incur additional shipping.