DO NOT REMOVE - LEFTNAV CLOSE/CONTENT OPEN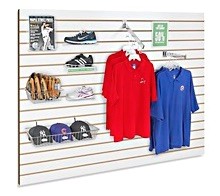 Slatwall is America's most popular choice for converting walls into a complete merchandising system. Our wall slat and slatwall panels are made of medium-density fiberboard that is suitable for light-weight display of merchandise. Choose your slatwall accessories including slatwall hooks, slatwall shelves and slatwall fixtures from a variety of colors and woodgrain finishes. All of our slatwall fixtures and slatwall accessories are in stock for immediate shipment!
Aluminum inserts may be added to slat wall for extra strength. Inserts hold 50% more weight than plain grooves
Slat wall sheets are available with grooves every 3" or 6"
Slat wall can be ordered standard cut (4'H x 8'L) or vertical cut (4'W x 8'H)
Please note free shipping does not include slatwall. Also please note all slatwall incur additional shipping charges, please call for quote.