DO NOT REMOVE - LEFTNAV CLOSE/CONTENT OPEN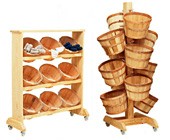 Show off your merchandise in sophisticated style with a hand-crafted wood display units!
Our carpenters are working hard to produce striking and versatile wood display rack pieces for your must-sell merchandise.
A wood display case makes a beautiful showcase for all sizes of gifts, plants, toys, linens, health foods and more! Plus, rustic barrels, tubs and displayers are great for end-of-aisles, POP, display props or any bulk merchandising.
To learn more about any of our wooden shelf and wood display units, click on the product images below.